Zoom Whitening (Phillips)
The quickest, easiest way to effectively whiten your teeth is in-office treatment with Philips Zoom WhiteSpeed. Zoom WhiteSpeed is the only in-office system that has variable intensity setting so each treatment can be customized to maximize patient comfort. The system also includes desensitizers to help minimize sensitivity and protect your enamel. This dentist-supervised, in-office procedure is safe, effective and clinically proven to whiten up to eight shades—for a brighter, whiter smile in just one office visit. (Source Philips website)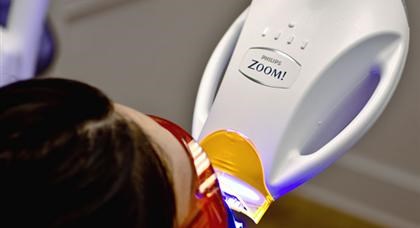 ---
Cerec (Sirona Ultra)
CEREC is the unique CAD/CAM system for patient individual all-ceramic restorations in one single appointment. Together with CEREC you come quickly and safely to the desired results for both you and your patients: aesthetic restorations. A further important objective is also achieved, the creation of value remains where it belongs in your practice.To meet the individual needs of every single dentist we have expanded our product range to include two camera solutions and three different milling units making it even easier for you to make the right decision with CEREC for your practice.The most used dental CAD/CAM system worldwideAlmost 30 years of successful continuous developmentOver 28 million restorations placedMore than 250 scientific studies documenting clinical securityProven long-term survival rate of 95%. (Source Sirona website)
---
CAVITRON® Ultrasonic Teeth Cleaning
The Cavitron ultrasonic cleaner is a state-of-the-art instrument for removing tartar from both above and below the gum line. Instead of cleaning your teeth with bulky and sharp metal hand tools, the Cavitron has a blunt tip and uses oscillating sound waves to gently vibrate the tartar away from your teeth. The Cavitron unit is so gentle that it can even be used to administer deep cleaning and gum therapy, many times without the need for anesthetic. And because it vibrates at the speed of sound, you will hardly feel the procedure at all.
---
Gendex GXDP-300™ Digital Panoramic X-ray System
Better diagnostics with panoramic imaging begins with accurate, clear views of the patient's anatomy. The GXDP-300 features proprietary FOX™ technology to capture well-defined, high-quality images — in an instant — with consistent magnification and image uniformity. Utilize VixWin™ Platinum with its powerful imaging tools to advance diagnostic capabilities and accelerate workflow; or view images in a variety of imaging software programs employing GxTWAIN interface.
The EasyPosition™ system and instructive alignment guides appropriately place and stabilize patients of all sizes, including those needing wheelchair accessibility, to reduce movement and optimize accuracy. Complete your patient scans in just a few simple steps: using the touchscreen control panel, select the imaging projection, choose the appropriate patient size, and take the scan. It's truly that fast and easy! (Source:Gendex website)
---
Hu-Friedy AIR-FLOW Therapy Technique for Biofilm Removal
Air polishing is a procedure which uses air & water pressure to deliver a controlled stream of specially processed powders in a slurry through the handpiece nozzle. Fine particles of powders are propelled by compressed air in a warm spray and directed onto the surfaces of the teeth. This pressurized jet of air, water and powder removes surface stains, plaque and other soft deposits such as food particles trapped in between the teeth.
But AIRFLOW Therapy isn't a typical air polishing treatment. Forget the messy, uncomfortable treatments you've given up on and explore the benefits AIRFLOW can bring to your patients and your practice. (Source:Hu-friedy website)